In his keynotes and masterclasses Jeff aims at providing concrete, and easy implementable, advices to increase the innovation power of a team, department of company.
A strong innovation power is especially important when an organization is faced with big challenges or when it has strong ambitions and is searching for ways to realize them.
The vision of Jeff is that the wellspring of the innovation power of a company lies in the mind of its employees. When these minds are prepared for discovering and realizing new opportunities, the organization ensures it has an enduring internal capacity to innovate.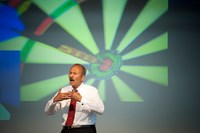 In his speaking Jeff highlights the possibilities to build an innovation mindset by means of small initiatives with a profound impact.
He is always searching for a dialogue with the audience. He ends his presentation with a collective creative thinking session with the audience that results in a large number of opportunities. These ideas are sent to the audience after the presentation.
Jeff Gaspersz has over 20 years of speaking experience and supported more than 300 organization in finding new opportunities.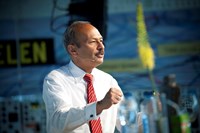 Feedback from conference organizers:
Jeff is innovation. I've not yet met anyone who is so capable of making your mind work on innovation so easy. It seems easy, but it's truly amazing
Remco Van Olst MSc Chief Operations Officer at Camelot Europe, Amsterdam Area, Netherlands
Perfect inspirational presentation with close consideration of the theme discussed, Shopping2020. The audience liked both Jeff's style of presentation as well as the content they were given. All thumbs up!
Jorij Abraham, Director Research & Advise, Program Manager Shopping 2020 at Thuiswinkel.org, Amsterdam Area, Netherlands
More feedback of approx. 100 conference organizers / participant is to be found here